Thanks to Donnas Deals and More and One Bath and Body, I have been given the chance to try three great products by winning a contest. Yay for contests!
One Bath and Body is a company that offers bath,body and other skin care products that are natural and cruelty free. They have so many great products it was hard to chose but these are the three I chose:
Mom's CherryPie Shea Butter Lip Balm 0.36oz
The lip balm comes in a small round tin with a top that twists off. It's small and cute, I like it. The lip balm itself is pink in color and smells just like cherry pie! It went on very light and smooth and kept my lips feeling very hydrated and it tastes so good!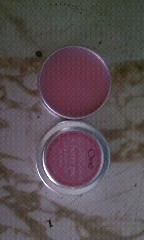 Sun Drenched Lemon Natural Sugar Scrub 8oz
Like the lip balm this came in the same type of tin only larger.As soon as I open the tin i was struck by a sweet lemon aroma,it smells soooo good. The sugar scrub is a nice thick consistency that is filled with lots and lots of grains of sugar. Upon using it in the shower I found that it gently scrubbed and exfoliated my skin without being to harsh and it left me smelling good enough to eat!
Simply Citrus Natural Body Butter 7oz
Also packaged in the cute tin, Citrus body butter has a pleasant orange scent. This is by far one of the most thick and creamy body butters that I have ever used.Seriously. It spread and absorbed into my skin nicely without leaving it feeling greasy. After i put it on my skin felt so nice for the rest of the day. The citrus smell of this complemented the lemon scrub nicely without being overbearing.
Overall I am super pleased with all of the products that I received from One Bath and Body. This is a company I would recommend checking out,especially if you're looking for natural, cruelty free products.